SoftWoods Set in Red Oak Alessco Size 50 x 50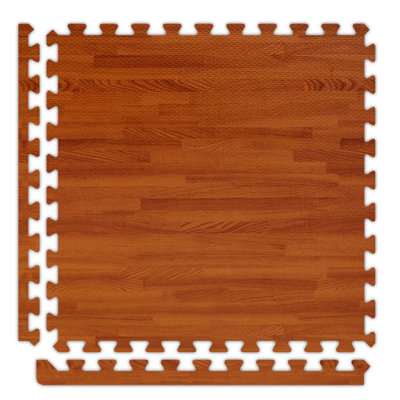 $6809.99 The contemporary look of hardwood and the comfort of SoftFloorsfor Residential or Commercial applications. SoftWoods are a printed closed cell EVA Foam Rubber that is Lighweight, Portable, Waterproof, Soundproof, Aerobic, Shock Absorbent, Insulating, etc. Features Material EVA a lightweight foam rubber. 50' x 50' Comes in 625 pieces. 20' x 50' Comes in 250 pieces. 20' x 40' Comes in 200 pieces. 20' x 30' Comes in 150 pieces. 20' x 20' Comes in 100 pieces. 16' x 20' Comes in 80 pieces. 10' x 30' Comes in 75 pieces. 16' x 16' Comes in 64 pieces. 14' x 16' Comes in 56 pieces. 12' x 18' Comes in 54 pieces. 10' x 20' Comes in 50 pieces. 14' x 14' Comes in 49 pieces. 12' x 16' Comes in 48 pieces. 12' x 14' Comes in 42 pieces. 10' x 16' Comes in 40 pieces. 12' x 12' Comes in 36 pieces. 10' x 14' Comes in 35 pieces. 10' x 12' Comes in 30 pieces. 10' x 10' Comes in 25 pieces. 8' x 12' Comes in 24 pieces. 8' x 10' Comes in 20 pieces. 8' x 8' Comes in 16 pieces. 6' x 10' Comes in 15 pieces. 6' x 8' Comes in 12 pieces. 6' x 6' Comes in 9 pieces. Construction Machine made. Color Red oak. Collection SoftWoods. Playground Flooring No Critical Fall Height .. Product Type Tile. Material Foam Material Details EVA foam rubber.. Finish Red oak. Matte Finish Yes. Edge Type PuzzleJig saw. Installation Type Loose lay. Installation Surface Wood floorCementLaminate. Outdoor Use No. Product Care Wipe clean. Anti Fatigue Mat Yes. Reversible No Reverse Side Color .. Antimicrobial Yes. Shock Absorbent Yes. Odor Resistant Yes. Water Resistant Yes Water Resistant Details EVA foam rubber is 100% waterproof.. Sound Absorbent Yes Sound Absorbency Details .. Weather Resistant No Weather Resistant Details .. Mildew Resistant Yes. Fade Resistant No. Fire Resistant Yes. Heat Resistant Yes. UV Resistant No. Non Toxic Yes. Lead Free Yes. Recycled Content No Total Recycled Content Percentage . Post Consumer Content Percentage . RemanufacturedRefurbished .. Flooring Sample Available Through Manufacturer No. Country of Origin Taiwan.Spefications Dimensions Flooring Length Size 8' x 10' 96. Flooring Length Size 8' x 8' 96. Flooring Length Size 8' x 12' 96. Flooring Length Size 20' x 40' 240. Flooring Length Size 20' x 50' 240. Flooring Length Size 50' x 50' 600. Flooring Length Size 12' x 18' 144. Flooring Length Size 14' x 14' 168. Flooring Length Size 12' x 12' 144. Flooring Length Size 12' x 14' 144. Flooring Length Size 12' x 16' 144. Flooring Length Size 20' x 30' 240. Flooring Length Size 20' x 20' 240. Flooring Length Size 14' x 16' 168. Flooring Length Size 16' x 16' 192. Flooring Length Size 16' x 20' 192. Flooring Length Size 10' x 20' 120. Flooring Length Size 10' x 30' 120. Flooring Length Size 10' x 12' 120. Flooring Length Size 10' x 10' 120. Flooring Length Size 10' x 16' 120. Flooring Length Size 10' x 14' 120. Flooring Width Size 8' x 10' 120. Flooring Width Size 8' x 8' 96. Flooring Width Size 8' x 12' 144. Flooring Width Size 20' x 40' 480. Flooring Width Size 20' x 50' 600. Flooring Widt Alessco Alessco Size 50' x 50'
Red Oak SoftWood interlocking foam floor tile Playroom Flooring Foam.
Duraseal Stain on Red Oak Wood Flooring. Tadpoles Wood Print Grey Floor Mat Set. Red Oak SoftWoods. The contemporary look of hardwood and the comfort of SoftFloorsfor Residential or Commercial.
Alessco SWLO1010 Softwoods Tile Set 10 x 10 Light Oak. SoftWoodsLight Oak Trade ShowsExhibits Events SoftWoods Dark Oak.
Light Oak SoftWoods Corner Border Inside SoftWoods.
Child from cold floors by using this Tadpoles Wood Print Grey Floor Mat Set. SoftWoods Floor Tile Set Grey Free Shipping Today 1.
Garage Flooring Tile Set of Color Red Montano 1 Light Candle Wall Light Astoria Grand Finish Roman Bronze. Dark Oak SoftWoods.
More Buying Choices. Turn on search history to start remembering your searches. Black White or Blue Corner Edges Pack. SoftWoods Dark Oak. Product Variants Selector. Product Image Clevr Interlocking Foam Mat Cushion Flooring Tiles Light Oak Pattern Set of. SoftWoods Wood Color Foam Interlocking Flooring Series by Alessco Alessco. Dark Oak Soft Wood Puzzle Flooring Tiles x x. Items 1 0 of. Jumbo Reversible SoftFloorsRed Blue Trade Shows.
Dark Oak Granite Print.
X Numeric Play Learn Floor Mat Set Alessco. Red Oak SoftWoods Interlocking Flooring Alessco.
Savorey Kitchen Cart With Stainless Steel Top August Grove Base Color White